Mission


Mercenaries

As long as mankind exists, there will always be battles.
So our quest is written
Mission
The war we fought is over but, as long as mankind exists, there will always be battles. "The time spent by humans in outer space has been a complete waste. The ideal is just a dream. This false pacifism, this false living space; outer space is nothing but a breeding ground for even more battles in the future. Wars throughout history have claimed many lives. Although humankind has never been able to forget the sorrow caused by the wars, they have not stopped fighting. The blood and tears they shed in battles are merely ceremonial.
Destruction is a human nature and can never be gotten rid of. One can't speak of history without referring to the wars in each era as important events. I'm sure the pale pep talks of fighting for peace have been repeated numerous times in the past."(Heero) This in turn is our mission. In this battle for power and glory, we are the Preventer that fight by a code of honor to punish all evil and enforce justice as we sees fit. The Mercenaries fight for the Earth and the Universe; we will keep peace in the universe from all who oppose it. In the struggle for the world and the universe, we will be there defending our members and allies to the end. We will destroy all the evil within the universe to create peace. In the end, those who stand before us with the desire to fight us, they're our enemies. And now others organization are developing a militaristic disposition in the universe. We must stop these problems before they get out of hand. We are the Gundam Wing Mercenaries, hired soldiers that prevent organizations from gaining great amount of power in the universe.
Other Objective
In this fight our main objective is to have fun. This is a game where friend are made and where we can have fun. All members should try to make the environment fun to play in. Our will, our loyalty, and our honor are the backbone of this clan. In the end, we will reach our goal and honor those who give their time and skill to the mercenaries.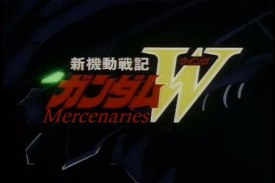 ©2000-2002 Gundam Wing Mercenaries - This website is for informational, promotional and entertainment purposes only. Mobile Suit Gundam and Gundam Wing: Endless Waltz are copyright of Sotsu Agency and Sunrise. Gundam Wing are copyright of Sotsu Agency, Sunrise and TV Asahi. In Turn A Gundam is copyright Sotsu Agency, Sunrise and Fuji TV. Gundam Wing Mercenaries is not affiliated with Bandai, Sunrise, or their respective trademarks in any official capacity.