Operation Meteor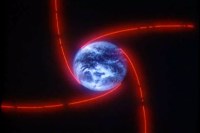 Operation Meteor
After colony 195, 20 years after the assassination of Colonial Stars President Heero Yuy, and the Downfall of King Darlian Peacecraft. The Space Colonies decided to take revenge on Oz, the special unit of the Earth Federation Union that is responsible for Heero Yuy's death. The Plan was called "Operation Meteor. This is what they called Gundams that was sent to Earth.
Each of the five mobile suits was made out of Gundanium-alloy (a special alloy strong enough to resist conventional weapons), Each Gundam has different specialty and came from different colonies (L1, L2, L3, L4, and L5), one of their goal is to destroy all weapons on earth and destroy OZ, they are Heero Yuy piloting Wing Gundam, Duo Maxwell piloting Gundam Deathscythe, Trowa Barton piloting Gundam Heavyarms, Quatre Raberba Winner piloting Gundam Sandrock and Chang Wufei piloting Gundam Shenlong.
But the Operation was something completely difference; the rotation of a colony (X-18999) is increased, the balance mechanism then destroy at the Lagrange Point throwing the colony toward Earth. As this cause chaos on Earth the Gundams are sent to gain masterly. This is the true outline of the original Operation Meteor.